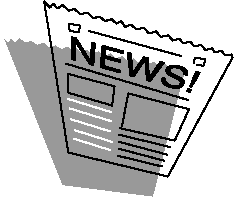 The official newsletter of VERPA!
Edition 1
December 2000
A thank you and welcome message from the President!
I thought it appropriate to send out a "thank you" to all the wonderful people I have met in my seven years as a veterans' rights advocate. Additionally, I would like to "welcome" all those people who will take an interest in our organization and goal to reform the "Feres Doctrine".

Thinking back, on the day of my honorable discharge from the Navy on January 13, 1994, I thought my life was over! All I ever knew about life was being a military member. The pain I felt was tremendous. I was always so proud to wear the military uniform of the United States!

To know, my goal of becoming a Navy Judge Advocate General (lawyer) and serving thrity-years in the armed forces would be no more, my direction in life was unclear. On top of that, I was faced with the reality that I had to support two minor children with no hope of finding productive work due to the alleged classification that I suffered from mental illness. So, I proceed to see my "adopted big brother" and "mentor", a Vietnam Veteran and my number one supporter next to my big sister, Marion, to tell him my career was over.

Prior to my enlisting into the Navy in Philadelphia, PA, on July 12, 1982, I spoke to Steve about the pros and cons of a military career. Although, we spoke of many different issues he stated the following that I carried with me my entire career. "If you are ever in a position of leadership, always take care of those under your direction."

Little did we both know, that 10 1/2 years later, I would be wrongfully discharge for looking out for the best interests of my subordinates. So, on the day of my discharge, I proceeded to Steve's work where he was a bartender at an Italian restaurant in the Philadelphia area.

When I arrived to seek his advice as to how to move on with my life, the next big blow to my will to carry on was about to take place. As I sat down and looked for him, I heard the following words that changed me forever! The waitress on the phone said; "Oh my God, they just found Steve dead in his apartment!" Without any question, my world was crumbling. He was only 52 years old and died of a massive heart attack. So, as I stood in a cold January rain and waited for him to be taken away, many thoughts crossed my mind. Retaliation was the main thought! However, I decided on that day that I would do whatever I could in my life, to prevent others from experiencing the same destruction of their careers as took place in mine by a simple "stroke of a pen" and false claim of mental illness.

As I struggled to get out of bed each and every day, I happened to be watching television one evening and saw a program about the military's abuse of the mental health system. I realized I was not alone! On the program, I listened to an individual by the name of Michael Turfariello, "Tuff", and his lovely wife explain the same injustice that I faced, had happened to their family.

For several days I attempted to find this man who from the moment I saw him, gave me hope and inspiration that I could overcome what I thought at the time, was a worthless life. My pride and dignity had been stolen from me, or so I thought, so I had to talk to "Tuff" and I did just that!

When I called this "patriot", he gave me so hope. Just as Steve and my big sister had done throughout my career. Although, we spoke of many different issues and life in general, he stated to me; "Focus on your life, move on but don't forget what happened to you ... If you keep your honor and integrity, you will prevail in the end."

Over the years since I first spoke to Tuff, we stayed in touch by letters and a few phone calls on occasion. Well, I did what "The Tuff" told me to do and I contribute the creation of VERPA to this "honorable and distinquished" American! So, to give you an idea of the type of people we are as "Ethical Resisters", I direct your attention to www.uscova.org. Click on "Tuff's" name and learn about one of the most "courageous" and "tough" Americans in the fight to rid the military of abusive leaders and corruption. Also, the "United States Council on Veterans Affairs", is Chaired by David Smallwood, another "patriot" who has been such a inspiration and we continue to exchange information in the fight to take down the "Pentagon monster"! Check this web site out ... it is simply terrific and loaded with valuable information.

In addition to "Tuff", there has been other government officials who attempted to prevent the destruction of my life, such as former Navy psychiatrist Dr. Andrew Wilkerson and Department of Defense Inspector General investigator William Shea. Unfortunately, even though these two distinquished and "ethical" government officials did all they could to stop the destruction of my career, it still came down to the "spin lawyers" in Washington who without question knew they had "Feres" on their side so no corrective action was going to be taken in my case. Additionally, I put the military's legal and medical systems on trial and there was no way in hell, I would be vindicated. In my opinion, the floodgates would have opened and 50 years of human/civil rights abuses under this case law would have surfaced.

I could go on and on and name so many wonderful people who I have met as an "advocate" who are also fighting the good fight for veterans and their families. Of course, space is limited, so I would like to share one very special and moving moment.

Back in July 2000, I met on-line a big brother Vietnam Veteran named Dale "V". Dale operates the Tennessee Firebase. Dale in my opinion is an expert on VA issues and he invited to attend the 18th Annual Vietnam Veterans Reunion in Kokomo, IN in August 2000. A great honor to say the least! I only could have wished that both my Uncle Al and Steve who were both in country, were there to share the experience with their Vietnam brothers and sisters. Sadly, they have both went home to the Lord well before their time.

As I waited for Dale to arrive from Tennessee, I spoke with many of my "heroes" the Vietnam Veteran generation. However, I started a conversation with a beautiful young lady named Susan. I came to find out that she was with a Vietnam Veteran named "Doc". Well, little did I know at that moment that these wonderful Americans would change my life forever!

The night before I departed back to Duluth, Doc, handed me a replica coin of his "Purple Heart"! Needless to say, this was the greatest honor I received in my years as an advocate. Even more moving to me was a comment he wrote which stated;

"Jeff, It has been a pleasure to meet you. Our friendship has only just begun. Susan and I know how special things are meant to be. Keep up the good work. One man can start a mission, but the team you gather through the path of life will help you complete the mission." Duty, Honor, Country .. Thank you. Jim (DOC) Perry. 8-17-00

In addition to the warmth and love I felt from Doc and Susan, I was honored to be afforded the opportunity to listen to Doc's brother, Robert, also a Vietnam Veteran, sign a few songs from his CD, "Wake Up Call". The music on this CD is nothing less than compelling! A man with great talent and whose music you hear on this site. I truly believe, with the right backing, and hopefully VERPA can do this one day, Robert's CD will hit big and the song, "Wake Up Call" will be played around the nation. (I have placed the CD cover in our "Photo Album" section.)

In closing, I want to say that a "Wake Up Call" is in order! We veterans and our families who have been denied justice for service-connected disabilities must pull together and demand Congress address our issues.

Although, many veterans never heard of the "Feres Doctrine", learn the facts about it. If the government can deny you service-connected disabilties at the time of your discharge, is there any wonder why the Veterans Administration can also deny such claims?

From all of us at VERPA, we wish you and yours a very Merry Christmas and Happy New Year!

Very truly yours,

True
Table of Contents
Introduction

In our newsletter "The Ethical Resister" will will provide the reader with information important to the active duty service member and his or her family. For example, here is a tidbit of what you might see in future newsletters with respect to "FRAUD, WASTE, AND ABUSE" issues:

WASTE ALERT!

Defense Secretary William Cohen's dinner in honor of movie industry lobbyist Jack Valenti cost us $295,000.00, officials recently disclosed. $165,000 was spent on 94 military musicians and vocalists who performed at the Beverly Hills extravaganza, while the dinner itself costs $76,000.00.

Don't you think your tax dollars of $295,000.00 would be better served placing it in a "Trust Fund" to reimburse veterans or their surviving loved ones denied justice under the "Feres Doctrine" for service connected injury or injustice?