With the power of the Internet the "playing field is now level". Once, we were helpless and without hope in bringing reform to the military and Veterans Administration. Mainly, to address service-connected injury or injustice denied rating percentages before discharge and denial of "due process of law" within the administrative remedy process under Public Law, Title 10 U.S.C. Section 1552. (Board for Correction of Military Records).

Not only does "Feres" deny a service member the opportunity to address an injury or injustice resulting from an official act amounting to medical malpractice or intentional tort, its power also denies our loved ones benefits within the Veterans Administration. (Public Law, Title 38).

The issue is simply "due process of law" under the Fifth Amendment of the United States Constitution. Although, the federal courts don't believe we have "liberty interests", we think otherwise. Our life, limbs, pension, etc., are just that!

On this page we'll present some details about our organization and the people behind it.
Our Staff
Our staff consists of "volunteers" from around the nation that effectively assist in our daily operations. We consist of all walks of life with family and friends throughout our great nation. We stand ready to reform government to protect our children from the abuses we faced due to those who place "personal agendas" over "duty, honor, country".

We are a "Union", consisting of honorably discharged veterans, families and friends working with other veterans' organizations to bring reform to the military and Veterans Administration,(VA).
Jeffrey A. Trueman
Founder/President
VERPA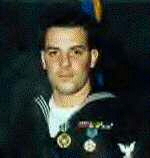 Jeff is also known as "Fro" in his home area of Philadelphia, PA, and "True" by many of his "adopted brothers and sisters" around the nation. He founded VERPA with one goal in mind, to educate the American public most specifically, parents of young Americans contemplating joining the armed forces and our 1.2 million rank and file members of the "chilling effects" of the "Feres Doctrine".

Prior to his wrongful discharge, True promised his administrative discharge board that he would be back. They laughed at him! On January 13, 1994, at the age of thirty, with two small children and a marriage that was all but over due to his placing, "duty, honor, country" over the best interests of his family, True found himself involuntarily but "honorably" discharged with alleged mental illness. (The evidence of blatant violations of federal law by his unlawful orders for mental health examinations as cited in his United States Supreme Court challenge against the law, was used in ABC's 20/20 expose' on October 28, 1999, "An Abuse of Power?". The program exposed the Clinton Military Establishment's misuse of the mental health system to silence and discredit "Ethical Resisters" who refused to turn a blind eye to military corruption.)

In the wake of the 20/20 program and True's failed challenge of the "doctrine" as unconstitutional at the United States Supreme Court in June 1999, which alleged 50 years of human/civil rights abuses of American service members due to the law's denial of "due process of law", he felt compelled to write "Beyond the Scope of Justice: The Chilling Effects of the Feres Doctrine in the United States Armed Forces".

Now, at the age of thirty-seven, True is now an author, certified paralegal/legal assistant, (with his eye on law school and would like to play college baseball and football. Well, maybe not college level anymore...)

Although, True put all his life savings into VERPA, he firmly believes with the help of his many friends and distinquished patriots from around the nation, "history will be made" and reform of the "Feres Doctrine" will be achieved in the years to come.

If you ask him, "How does it feel to be an author?", you will get the following response, "I am not an author, I am a veteran with an issue!" What an issue it is ... the "Feres Doctrine"!

In True's opinion after "walking the walk", and "quarterbacking" the effort to fight this unjust law at the United States Supreme Court, he knows, if not amended, it will continue to destroy many honorable men and women.

To save the federal treasury over protecting the constitutional rights of American citizens serving honorably to defend the U.S. Constitution is simply wrong!

Although, True's efforts to challenge the "Feres Doctrine" within the federal judiciary is now over, he is hopeful that VERPA's publishing arm will continue to produce books on behalf of veterans and their families injured by this unconstitutional law. The objective is to fund VERPA's advocacy arm and provide fellow veterans and their loved ones with financial compensation, plus a vehicle to tell their stories to ease the pain they carry from being betrayed under the doctrine's denial of "due process of law" to address service-connected disabilities.

True lost daily contact with his children in the wake of his divorce, a million dollar military pension over his lifetime, etc., etc., he knows he is not alone.

In the end of True's journey through the miltary's entire chain of command, investigative processes, Members of Congress and the United States Supreme Court, True is happy to say, through it all, God brought him closer to his family, children and his "soulmate". He is now rebuilding his life and putting what comes first -- "family" (this makes his big sister very proud). True still has many years of fighting left in him to prevent unlawful reprisals of service members and their families who stand tall to corruption. If reform of the military and Veterans Administration is to be achieved, it takes "team work". True hopes his book will be the vehicle to gain the support of the American public that "checks and balances" must be instituted to ensure military officials who abuse their powers are accountable under existing laws.
OUR GOAL

To establish a nationwide "union" for military dependents to assist them with procedural guidance to prevent their loved ones who expose "fraud, waste and abuse" from becoming victims to unlawful reprisals.
"We are veterans, family and friends from around the nation who care for each other!"